Welcome to the February 2016 newsletter from 2BrightSparks.
In this issue: We are excited to inform you on an upcoming release on SyncBack Touch. You can also read about new articles on 3-2-1 backup strategy and a price comparison between several cloud services in the market.
Follow 2BrightSparks on Twitter and Facebook.

If you have any suggestions on what you might like to see in future issues of this newsletter, drop us a line with your suggestions.
---

Get set for an updated SyncBack Touch experience

The current SyncBack Touch (release version 1.1 for Windows) introduced user impersonation which allows SyncBackPro V7 to connect to it using the host computer's Windows login accounts. This way you can set your SyncBack Touch profiles to use the same user credentials (login name and password) that you use on the computer hosting SyncBack Touch and ensure that the profile will be able to access only the content that the user has access to. It also provides additional security, especially in a large network environment, where you want to take advantage of the existing permissions laid out for users on each computer. Impersonation can only be used with SyncBackPro, not SyncBackSE.
To enable this new feature, the user impersonation option must be selected during SyncBack Touch installation as shown below: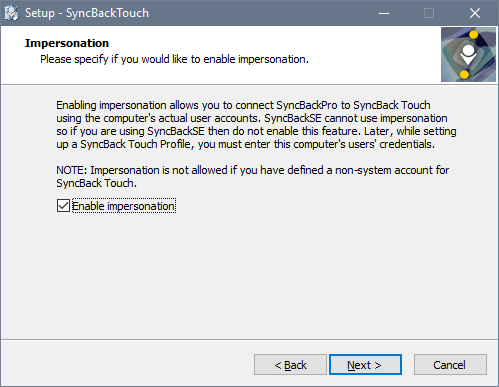 Within the next few weeks we'll be launching a new version of SyncBack Touch with improved transfer speeds on all supported platforms (Windows, macOS and Android). If you are interested in becoming a beta tester for SyncBack Touch for the Windows or macOS versions then you can subscribe to our beta testing program. For our Android version users, if you would like beta versions to be pushed automatically to your device please follow the instructions described on our forum post.
If you have not started using SyncBack Touch, now is the best time for you to start! Find out more about SyncBack Touch. SyncBack Touch works with SyncBackSE V7 and SyncBackPro V7.
---
New Articles at 2BrightSparks
Since our last newsletter we have published two new articles about 3-2-1 backup strategy and a price comparison between cloud services.
3-2-1 Backup Strategy with SyncBack
When handling important IT data, it is always essential to back them up to prevent loss or corruption of data. However, storing the data in just one backup location may not be sufficient to safeguard from unforeseen disasters or accidents. Therefore, it is recommended to use the 3-2-1 backup strategy to ensure multi-layer protection and increase your chance of quick recovery.
Pricing Comparison between cloud services
SyncBackPro V7 offers a wide array of cloud services that one could backup their data to. However, each cloud service may charge different levels of pricing. How do you know which service is the cheapest? To help you make an informed decision, we have prepared a chart that compares the pricing for every cloud service supported by SyncBackPro V7.
Cloud Storage Pricing - February 2016
Cloud Service Provider
Free Storage Available
Storage Upgrade Plan 1GB/month
Additional Features/Information
Amazon Drive
Free for 3-months
US$0.199

Unlimited photo storage

5GB storage for files or videos

Box
10GB
US$0.115

10GB of total storage

250MB max file size

Dropbox
2GB
US$0.0099
1TB of total storage
Google Drive
15GB
US$0.0199
100GB of total storage
Office 365
US$0.005
1TB file storage and sharing
OneDrive
15GB
US$0.0398
50GB file storage
SugarSync
Free for 1 month
US$0.0749
100GB of storage
Amazon S3
5GB
Pricing details
Microsoft Azure
Pricing details
Google Cloud Storage
Pricing details
Disclaimer: The pricing data is based on publicly available information as at February 2016. We accept no responsibility for any price changes or inaccuracies. Check with the relevant cloud service for current pricing.
---

Lucky Draw Winners
Every month, ten lucky winners who complete the SyncBackPro/SE survey forms receive a free license for OnClick Utilities. The link to the survey is contained in the order confirmation email. We will even allow you to transfer your license to friends or family if you've already got a license. Good luck!

To date, over 1330 lucky people have already received free software from us just by simply completing the survey, so what are you waiting for?

Thanks for reading. If you have any suggestions on what you might like to see in future issues of this newsletter, drop us a line with your suggestions.