How to Backup to Google Drive
Author: Michael J. Leaver, 2BrightSparks Pte. Ltd.
SyncBackPro can backup, restore and synchronize files with a number of cloud services, including Google Drive. In this article we'll show how to create a profile to backup to Google Drive. The same steps can be used with other cloud services, e.g. Microsoft OneDrive, Dropbox, etc.
Creating a backup profile
- Download and install SyncBackPro if you don't already have it
- Run SyncBackPro and click the New button to create a new profile:

- Enter a name for your profile, e.g. Backup to Google Drive, and click Next
- We are going to do a backup, which is the default, so click Next
- Change the Destination to Google Drive then click Next: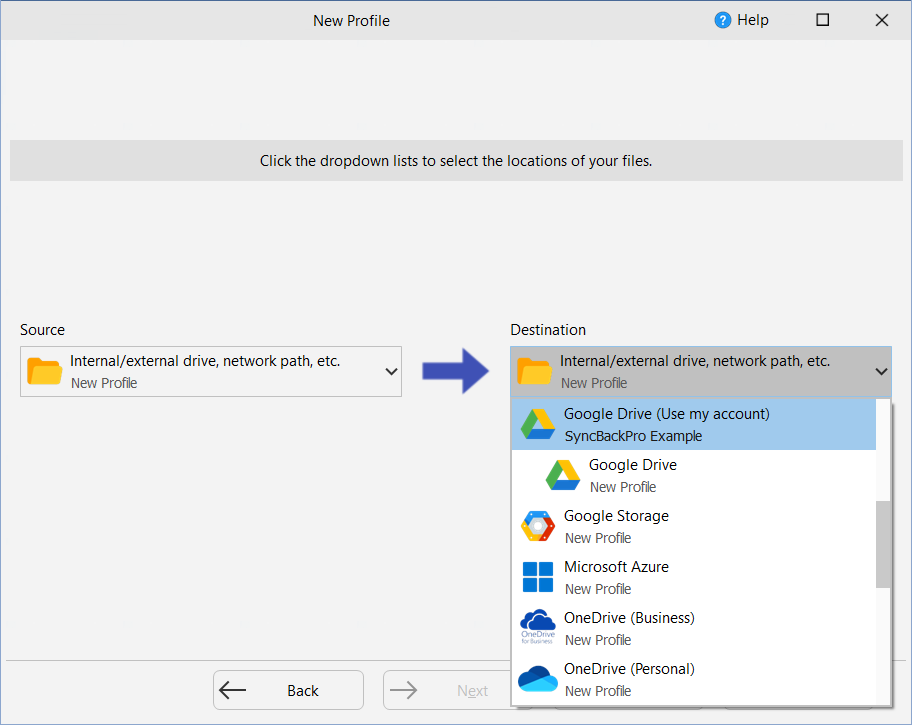 Authorizing
- Now we need to allow SyncBackPro access to your Google Drive account. To do this click the Authorize button: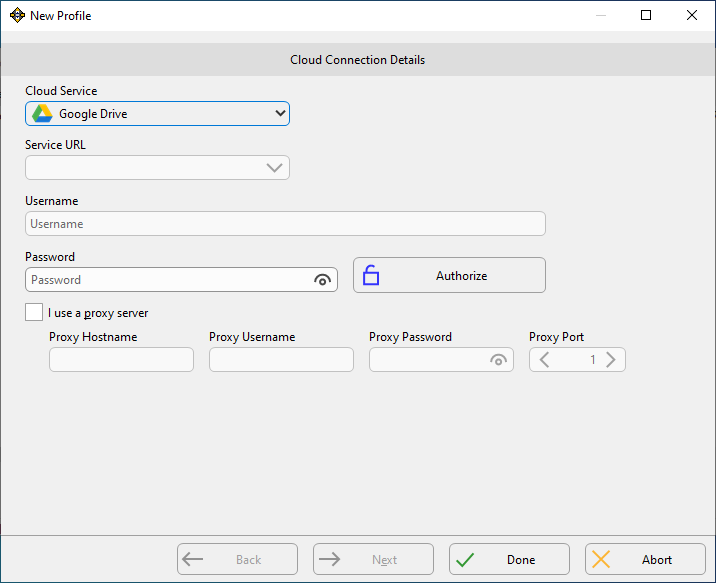 - A browser window will open to let you login to your Google account: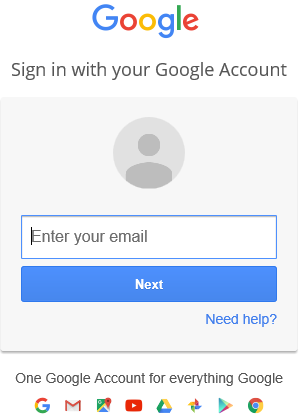 - Once you have logged in you are asked to allow SyncBackPro access to your account. Click the Allow button: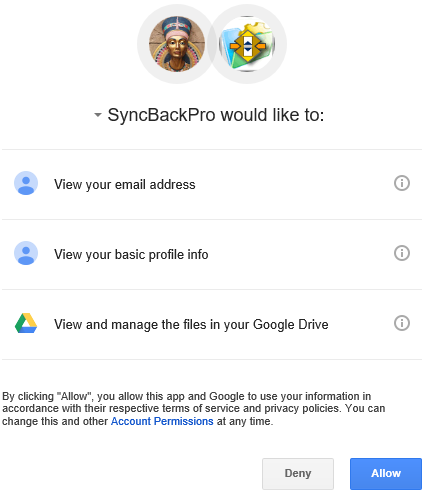 - Next a web page is shown with a code:

- Copy that code to your clipboard, paste it into the prompt in SyncBackPro and click OK

- A dialog box will appear confirming the SyncBackPro is authorized. Click OK and then click Done.

Choosing
- You may now get a prompt telling you that a window will open where you can change the profile. Click OK

- Now we can choose which files we want to backup to Google Drive and where on Google Drive we want them stored. To do this click the folder icon next to the Source button: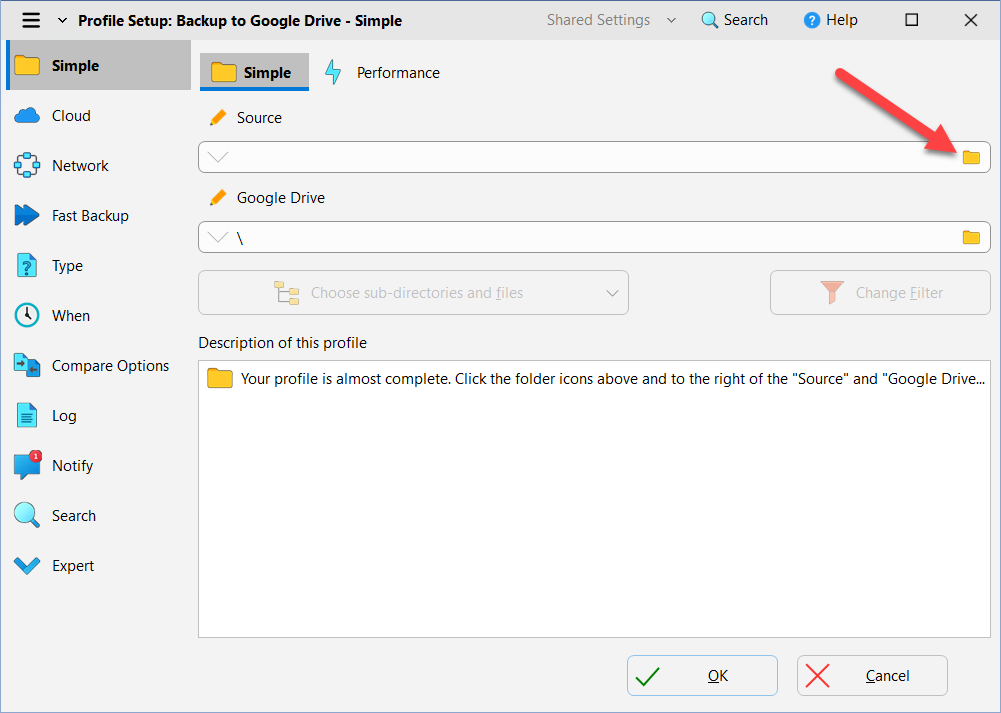 - In this example we'll choose the C:\ drive and select a folder on it. So after selecting your folder, and returning to the Profile Setup window, we are going to click the Choose sub-directories and files button: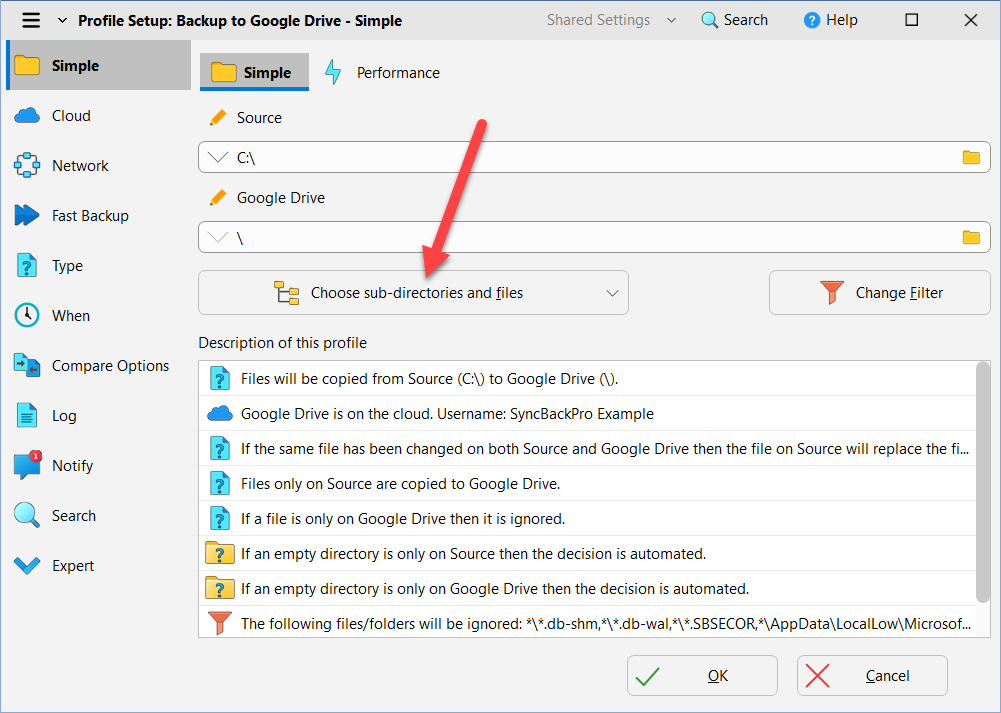 - We don't want to backup our entire C:\ drive, so we untick the root (\) which will untick everything under it: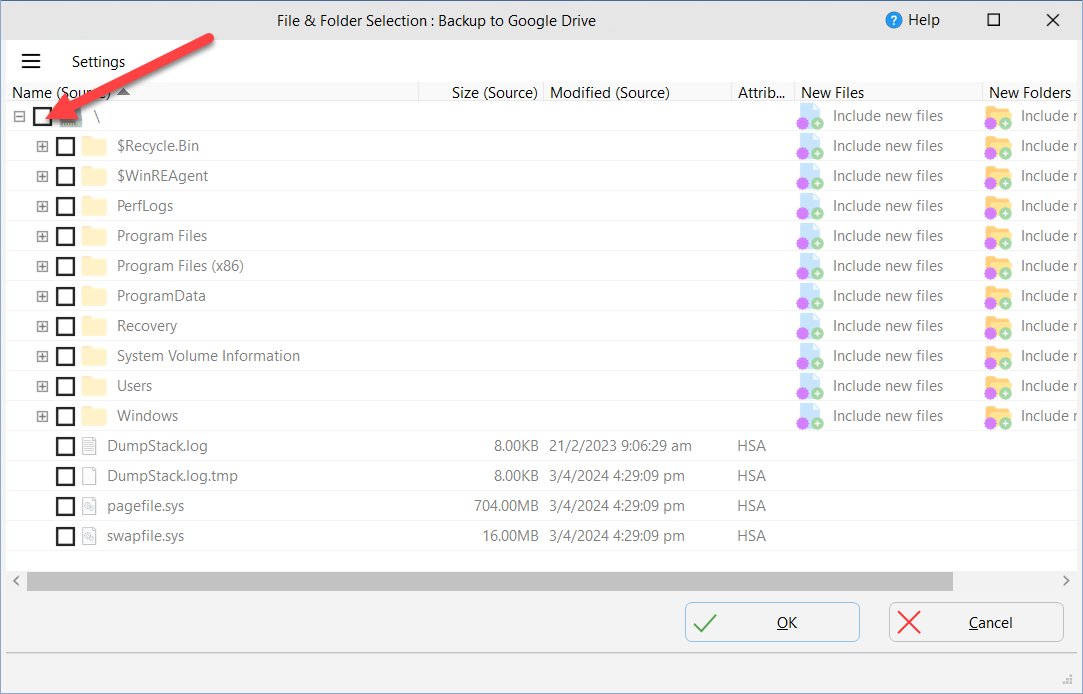 - Next we select the folder we want to backup. In this example we're just choosing one folder but you can of course select multiple folders and files: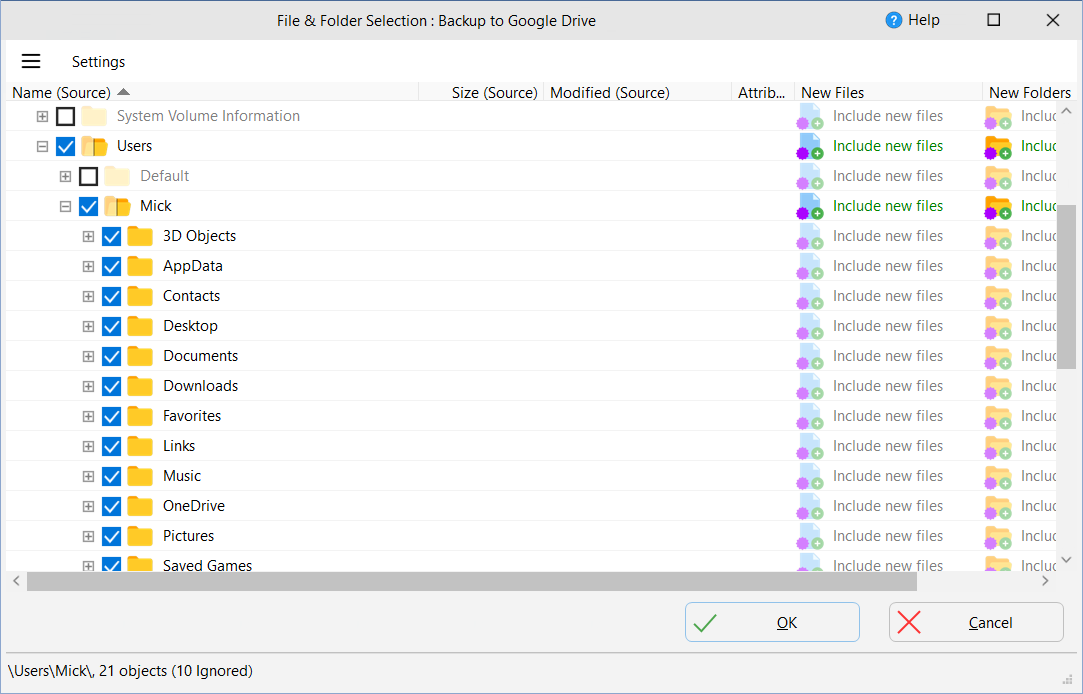 - Once you've made your selections click the OK button to close the File & Folder Selection window
- You can also change where to backup your files to on Google Drive (by clicking the folder icon next to the Google Drive button or simply typing in a path)
- In this example we'll backup to the folder \Backup\ on Google Drive: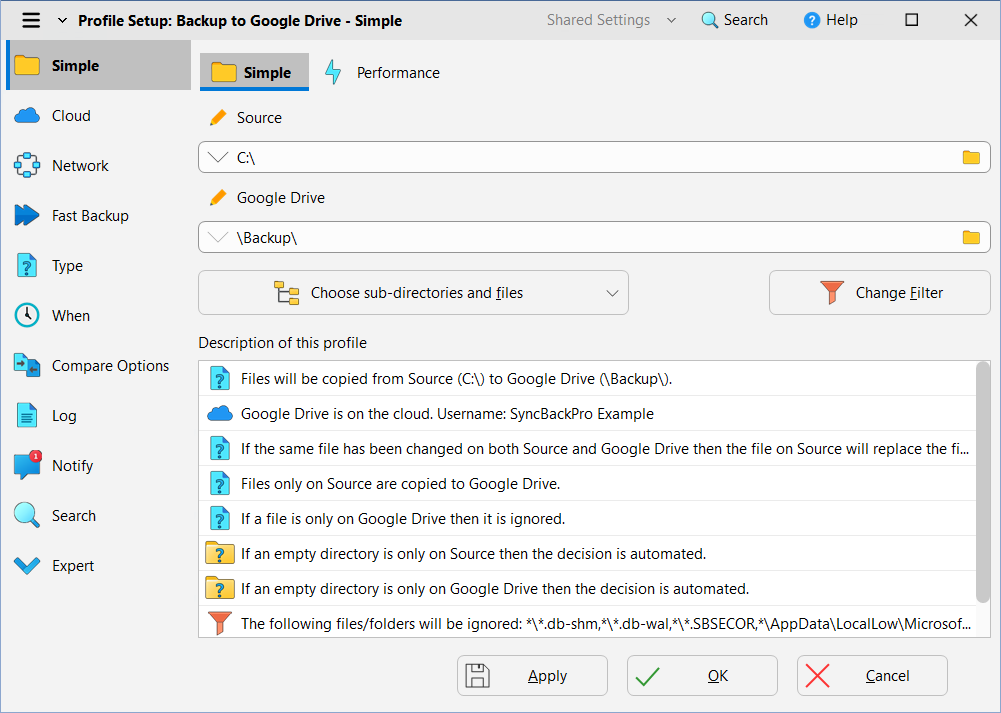 - There are many other things we could do, e.g. enable versioning, but in this example we'll just do a simple backup, so click OK to close the Profile Setup window and return to the main window
Running
- A prompt will appear asking you if you would like to perform a simulated run for this new profile:

- A simulated run does a test run which does not delete or change any files. It gives you a chance to make sure everything is set correctly before performing the backup for real. Click Yes to make sure everything is set correctly.
- SyncBackPro will now connect to your Google Drive account, scan it, and see which files need copying to it: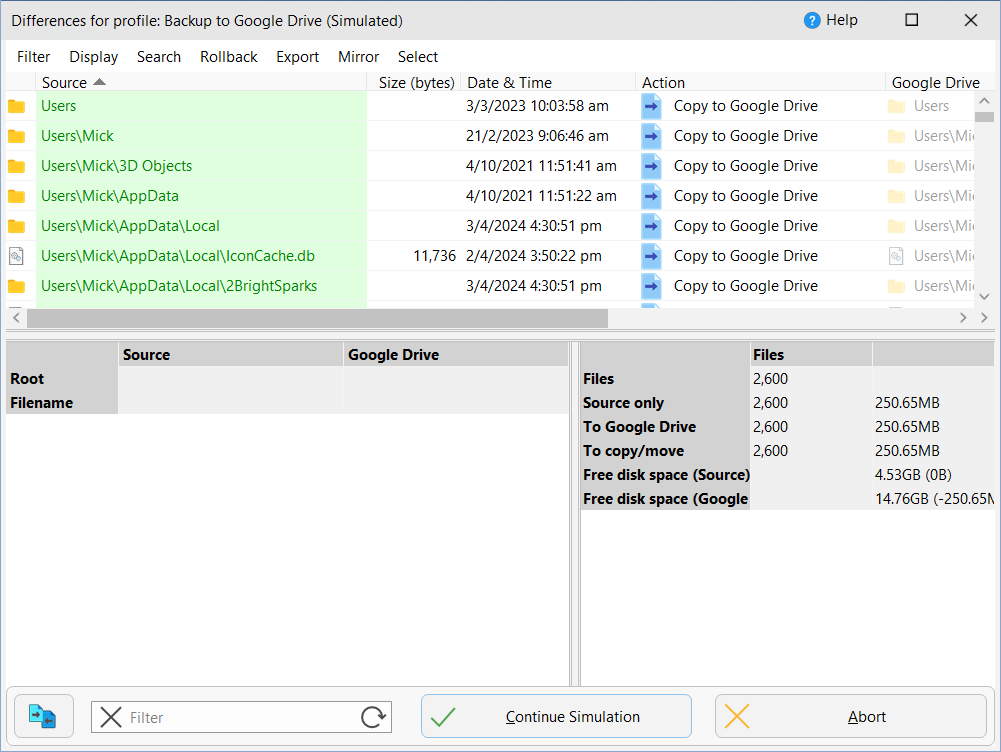 - As this is a simulated run nothing will actually be copied or deleted. Click the Continue Simulation button.
- Assuming everything was correct, and you don't need to make any changes, you can now run the profile for real and make a backup of your files. To do this select the profile in the main window and click the Run button.
- You can easily create a set & forget backup by selecting the profile and clicking the Schedule button. For example, you can have the profile run every morning at 9am. When a profile is run via a schedule there won't be any prompts. It will be done in the background without any interruptions or prompts.
Google Drive
At the time of writing (Jan 2016 - updated November 2018) Google Drive gives a generous 15GB of storage for free - making cloud backup possible for anyone, irrespective of their budget. Depending on how much storage you need you can pay extra for between 100GB (US$1.99 per month) and 30TB (US$299.99 per month).

File size limits depend on whether the file is a Google Docs file or not and the type of Google Docs file. Files that are not Google Docs files are limited to 5TB in size.

Google Drive is tightly integrated with the Android and Chrome operating systems and also Google Docs. Google Docs provides a way to create office files (documents, spreadsheets, etc.) online and to share them with others. Google Photos can also be accessed from Google Drive (if you have enabled it).

Using SyncBackPro you can easily backup all your Google Photos. Remember that if Google Photos is the only place you have a copy of your photos then it's not a backup! Also, if you lose your phone then it's possible that the thief could delete your photos from your phone and Google Photos.
Conclusion
SyncBackPro supports not only Google Drive backups, but also Amazon S3, Amazon Drive, Microsoft Azure, Microsoft OneDrive, Microsoft Office 365, Google Storage, Box, Dropbox and SugarSync. It can not only backup online your files to a cloud service but also backup your cloud service. For example, you may want to backup the photos that your phone uploads to Dropbox automatically. Files can also be uploaded encrypted and compressed for added security. SyncBackPro also has it's own versioning meaning you can have multiple versions of your files on cloud services that don't have their own versioning.