Managing Remote SyncBackPro Profiles with SBMS
Author: Conrad Chung, 2BrightSparks Pte. Ltd.
In a corporate environment that deploys hundreds or thousands of SyncBackPro installations on its end-user workstations, administrating their backup profiles can become a tedious and painstaking job for the IT administrator if there is no centralized console to manage them. Thankfully, with SBMS (short for SyncBack Management Service), we can do just that. In this article, we will look at what SBMS is and how it can be used to manage remote SyncBackPro profile deployment and monitor run history.
What is SBMS?
SBMS is a tool that can be used by IT administrators to manage and monitor multiple remote installations of SyncBackPro. The SBMS can be used for:
Pushing customized profiles to remote SyncBackPro installations on end-user workstations (or servers).
Limiting what end-users can do with SyncBackPro (e.g. stopping users from deleting their profiles or changing profile settings, etc).
Tracking the status of profile run results and history.
Remotely managing SyncBackPro profiles.
SyncBack Management System consists of 2 components – the SBM Service and SBM Console. SBM Service is usually installed on a central location (such as a server) and it stores the database used in the application. The SBM Console connects to a remote SBM Service (over the Internet or an intranet) and allows administrators to centrally manage and monitor the backups performed by SyncBackPro client machines.
Benefits of SBMS
With SBMS, IT administrators can create managed profiles (or templates) and upload them to the SBM Service. Using the SBM Console, the admin can setup groups and assign users and managed profiles to these groups. SyncBackPro can then connect to SBM Service, and based on the user account used, the managed profiles assigned to the respective group are downloaded on the remote workstations. As an example, the admin can deploy different profiles based on department (Marketing, Finance, HR, etc), so they back up different sets of data according to their group policy.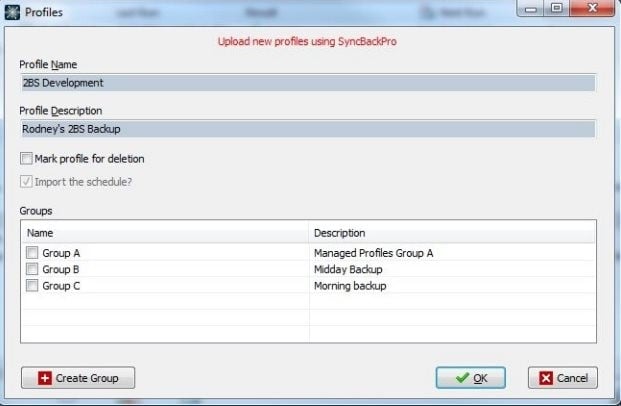 A security profile can be assigned to each user, which defines what the user can do in SyncBackPro. For example, you may want to limit the user's ability to configure or delete a profile.
Using the SBM Console, administrators can review a history of past profile run results and they can create customizable reports for regular management review.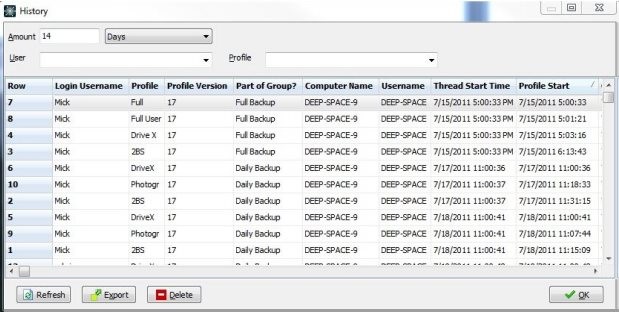 SBMS can specify which workstations can log on to the server by client machine IP address. SyncBack Touch installations can be configured to use a SBM Service for security so that only valid users and installations can use SyncBack Touch.
SyncBack Touch Integration
Another useful add-on utility is SyncBack Touch, which is a cross-platform service that works with SyncBackPro (and SyncBackSE) to remotely access Windows, macOS, Linux or Android devices for backup and sync operations. SyncBack Touch can also be configured to work with SBMS.

It is especially useful in corporations that runs multiple Windows, macOS, Linux and Android systems and require their data backed up. We have a Knowledge Base article that provides further details.
If you are using SyncBackPro/SE V10 (or newer) then SyncBack Touch is free to use.
SBMS Licensing and Cost
If you are using SyncBackPro V10 then SBMS is completely free. You can have as many installations as you require, with no cost.
If you are using SyncBackPro V9 or older, then SBM Service licensing is based on a per-connection basis (for each installation of SyncBackPro and the Console connected to the SBM Service at the same time). Usually, the number of SBM Service licenses to purchase equals the number of SyncBackPro licenses purchased. The SBM Console is free and may be installed on as many administrator computers as required.
For example, if you have SyncBackPro V9 installed on 25 computers, then you'll need at least 25 licenses of SBM Service. However, keep in mind that a license is required per connection to the SBM Service, so if all 25 installations of SyncBackPro V9 are running at the same time, and are connected to the SBM Service, then you will not be able to connect using the SBM Console (as that is another connection, bringing the total to 26).

SBMS costs just a few dollars per license and volume discounts are available starting from 5 licenses or more. Visit our web-store today to purchase your SBMS licenses.
SBMS Installation Guide
The SyncBack Management System and Console ship with a useful help file. You can also download a detailed installation guide.
Conclusion
As companies grow and staff headcount increases, the IT administrator will find it easier to manage multiple SyncBackPro profiles by using SBMS as their centralized console for backups. The low licensing cost of SBMS means it's a breeze to integrate it for company wide deployment.