The Mater Password and Customization
The encryption keys produced by ScrambleOnClick is protected by a Master Password which is defined by the user, and can be modified or deleted from within the settings window.
Right click the ScrambleOnClick Tray icon and select the "ScrambleOnClick Settings" item from the menu: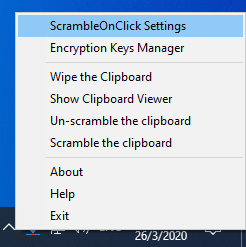 The following window will appear which allows you to create or modify your master password: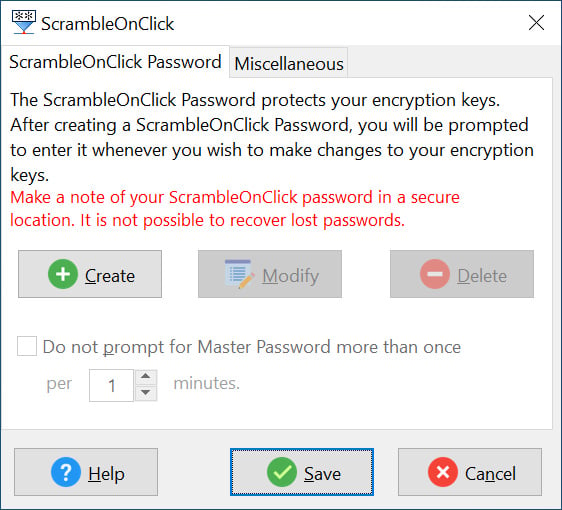 | | |
| --- | --- |
| • | Do not prompt for Master Password more than once per minute/s: selecting this option allows you to use the master password several times in a user specified period without being asked to enter the master password repeatedly. |
Read The Master Password section of this help file for detailed instructions about creating, modifying and deleting master passwords.
Miscellaneous Settings
Click the Miscellaneous tab to change the program options: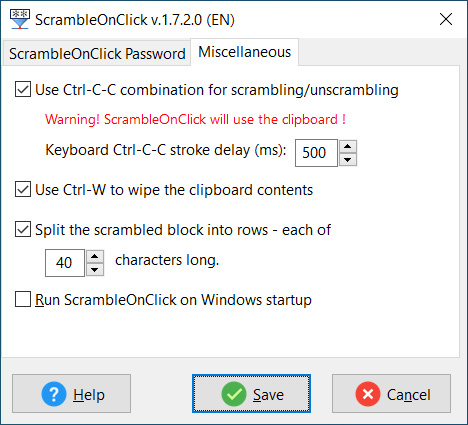 | | |
| --- | --- |
| • | Ctrl-C-C combination for scrambling/unscrambling: when this check box is selected, ScrambleOnClick will use the keys "Ctrl" "C" "C" for scrambling and unscrambling. unselecting this check box will prevent ScrambleOnClick using the keyboard for scrambling operations. |
| | |
| --- | --- |
| • | Keyboard Ctrl-C-C stroke delay (ms): the key press delay can be changed to suit the user's requirements. The default delay is set to 500 milliseconds (half a second) and can be raised to up to 1 second. |
| | |
| --- | --- |
| • | Use Ctrl-W to wipe the clipboard contents: this default setting in ScrambleOnClick increases the user's security as it allows them to quickly and easily wipe the clipboard contents whenever the keys "Ctrl" and "W" are pressed at the same time. Wiping the clipboard is an additional security feature that ensures no one can reuse the clipboard contents. |
| | |
| --- | --- |
| • | Split the scrambled block into rows - each of "x" characters long: this option allows the user to set the length of the block of scrambled text. A single line of encrypted text may prove problematical for some programs to process. Setting a block row limit allows the user to control how long each line of encrypted text is. |
| | |
| --- | --- |
| | Note that email programs often use a limit of characters for each line. If this option is unselected, additional line breaks will introduce spurious blank spaces into the encryption block, and the unscrambling will not work appropriately. By selecting this option you will ensure the scrambled text is appropriately unscrambled. |
| | |
| --- | --- |
| • | Run ScrambleOnClick on Windows Startup: make ScrambleOnClick start whenever Windows boots up. |
Frequently Asked Questions
FAQs about using ScrambleOnClick follow on the next page of this help file.
All Content: 2BrightSparks Pte Ltd © 2003-2022