Using FindOnClick: Options
The program Options become available in a drop down menu when the "Options" button is clicked: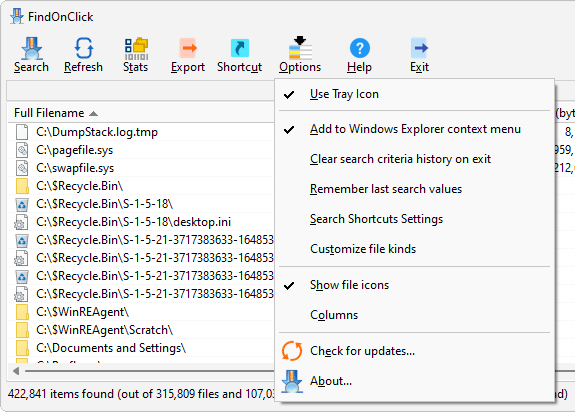 Use Tray Icon will display FindOnClick in the tray area. Double-clicking on the FindOnClick tray icon will show a new instance of FindOnClick. Right-clicking on the tray icon opens a tray menu that allows you to quickly launch your search shortcuts that you saved in the default shortcut folder (see Search Shortcuts Settings below):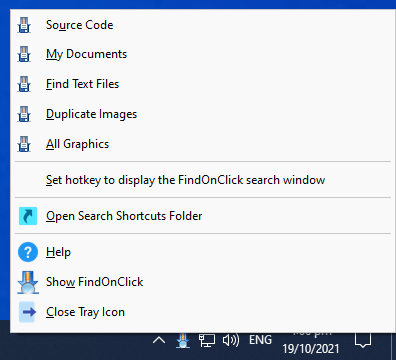 Start with Windows ensures that FindOnClick runs every time Windows runs (this option is not available if you are using Windows Vista or newer).
Set hotkey to display the FindOnClick search window allows you to enter a key combination to show the FindOnClick search window:

Add to Windows File Explorer context menu makes FindOnClick available from the Windows File Explorer context (right-click) menu: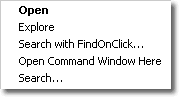 Clear search criteria history on exit. If checked - every time you close FindOnClick, this option clears the history of search criteria typed in the search window. You can find more about the search criteria on the Expert Search page.
Remember last search values. If checked - every time you run a new instance of FindOnClick the program will load the search criteria and parameters that you used last time.
Search Shortcuts Settings shows the window that allows you to set the default folder for saving the search shortcuts (the Shortcut button on the tool panel in the main window):

If the shortcut is saved into the default folder then it will appear in the tray menu for quick access (see Use Tray Icon option above).
| | |
| --- | --- |
| | Note that shortcuts that are not saved in the default folder have a limited amount of search parameters (the total length of a command line in a Windows File Explorer shortcut cannot exceed 259 characters). |

Customize file kinds shows the Manage File Kinds window where you can add, delete or edit an existing File Kind. The File Kind is a list of file types united by some common purpose. For example the Pictures kind can have .jpg or .gif type, both of which are image files.

Clicking Add new will bring the File Kind Properties dialog where you can assign a new name to your new file kind and define the extensions of files that are included into this kind. Extensions should start with a dot and should be separated by comma (.txt, .doc), as they should be specified in the Expert Search window.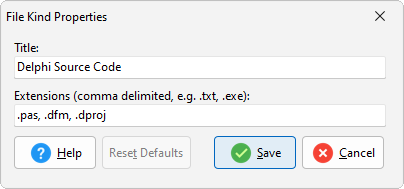 Show File Icons if checked, makes FindOnClick display the associated file icon in the search results.
| | |
| --- | --- |
| | Note that checking this option will slow the search process down. |
Columns shows the Columns Displayed window where you can customize the columns list. Read more about FindOnClick Columns.
Check for updates will inform you whether you are using the latest version of FindOnClick.
About shows the FindOnClick About window with the OnClick Utilities serial number: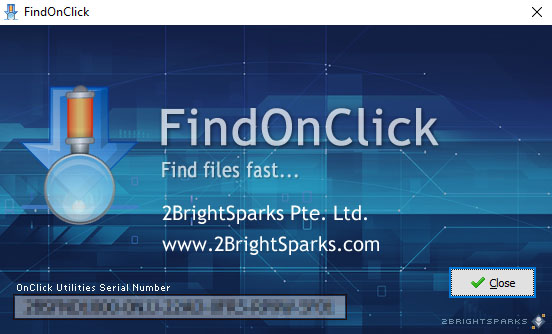 All Content: 2BrightSparks Pte Ltd © 2003-2019