Entering your FindOnClick Serial Number
We've made the serial number entry for FindOnClick as straight forward as possible.
Ensure you have downloaded the latest version of FindOnClick:
http://www.2brightsparks.com/assets/software/FindOnClick_Setup.exe
All versions of FindOnClick can be safely installed over an existing installation.
To licence the software click the Serial Number button:

A serial number window will open: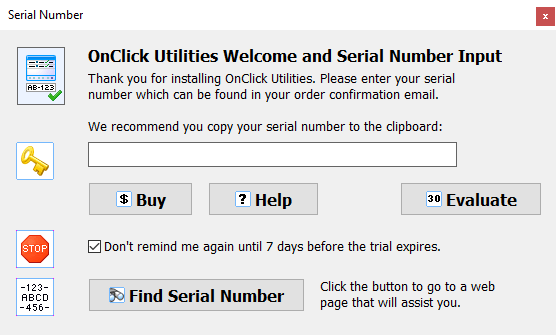 Do not try to manually enter the serial number as errors can easily be made.
Copy by first highlighting your serial number, then holding down the "Ctrl" and "C" keys at the same time. FindOnClick will automatically paste the serial number into the text area.
You will find a special tutorial on entering your serial number online at:
http://www.2brightsparks.com/tutorials/serialnumbers/4.html
All Content: 2BrightSparks Pte Ltd © 2003-2019